Lindsay Fitzpatrick, PsyD, BCB

,

Executive Director

Dr. Fitzpatrick is a Licensed Clinical Psychologist with specialties in chronic pain and illness and a focus on serving the LGBTQ community. She is also Board Certified in Biofeedback services. She brings experience in inpatient and outpatient settings, working with children, teens, and adults, as well as in group, individual and family modalities. Prior to stepping up to Executive Director, Dr. Fitzpatrick served as the Director of Mental Health Services at Shanti for the last two years, and is excited about expanding her role to include oversight of the agency.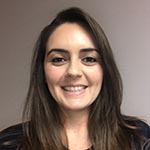 Melissa Ryks

,

Program Coordinator

Melissa Ryks joined Shanti Orange County in 2017 as Program Coordinator. She received her Master of Arts in Psychology from California State University, Fullerton in 2014. Throughout her coursework she received a broad overview of multiple aspects of mental health, including Positive Psychology, Industrial-Organizational Psychology, and Health Psychology. Outside of the classroom, she developed her passion for Mental Health while working at a large, multi-specialty, private practice. There she served as Intake Coordinator pairing incoming clients with clinicians with a specialty in their area of most need. Outside of Shanti, she is a self-proclaimed foodie and spends much of her time cooking and exploring the local food scene. She also enjoys reading and spending time with friends and family.
Bruce Vancil

,

Case Manager

Bruce Vancil is Shanti Orange County's Case Manager. With a background in medical psychology, Bruce has worked in patient service programs in Orange County for over 25 years, including several years working in oncology. A self-proclaimed "ship nerd," he loves maritime history and hanging out on the Queen Mary.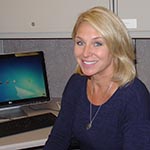 Diane Sorenson

,

Case Manager

Diane Sorenson joined Shanti Orange County in 2016 as Case Manager. She received a BS in Nursing from the University of Michigan. During her former nursing career she focused on long-term Physical Rehabilitation and Case Administration for a home health care company. She recently moved to California from Florida and loves to hike, bike-ride, and spend time with her family and Golden Retriever, Molly.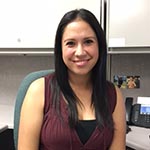 Jen Chavez

,

Case Manager Assistant

Jen Chavez studied Sociology and Ethnic Studies at the University of California, San Diego, where she found her passion for working with the HIV community. With a background in behavioral services, she has worked in diverse settings with children, adolescents and adults. She recently joined Shanti as bilingual case management assistant. She is a proud mother of a spirited toddler and a poodle rescue.
Dana Hodgdon, Ph.D.

,

Counseling Services Psychologist

Dana Hodgdon, Ph.D. is a licensed clinical psychologist who received his doctoral degree in clinical psychology from Pacifica Graduate Institute in 2015 and obtained his master's degree in psychology from Cal State University, Long Beach in 1996. Dr. Hodgdon has extensive experience helping people suffering from addiction, grief and loss, and chronic illnesses. He conducts research and has presented at various professional gatherings such as California Psychological Association convention. Dana has worked as a counselor for Torrance Memorial Medical Center for the past 18 years, and has been a valuable part of the Shanti team since 2013. He enjoys the opportunity to connect with his clients in both the individual and group settings. Dana enjoys fly fishing, traveling, and spending quiet evenings at home with his wife.
Crystal Quarry

,

Psy.D., Counseling Services Psychologist

Crystal Quarry, Psy.D. received her doctoral degree in Clinical Psychology from Alliant International University in June 2016. She obtained her masters degree in counseling psychology from Argosy University, Los Angeles in 2010. Her work focuses on clinical practice and research at the intersections of chronic illness, disability, trauma, and resiliency. She has a special interest in Health Psychology. Crystal has experience working in various mental health settings such as inpatient/outpatient care, school-based counseling with children, adolescents, and adults; addiction, and childhood and adult trauma. She recently completed her predoctoral internship at Pasadena City College, and is currently a postdoctoral fellow at Shanti Orange County. When she is not working, Crystal enjoys traveling, camping, the arts, and spending time outdoors with her family.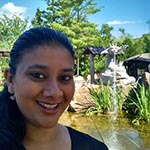 Harpreet Malla

,

Psychology Assistant

Harpreet Malla is currently working toward her Ph.D. in Clinical Psychology and is accruing hours for supervised professional experience while at Shanti OC. She has had a breadth of experience in inpatient and outpatient settings, working with children, teens, and adults, in hospital, community mental health, and university settings. She has worked in individual, group, and family therapy formats, and enjoys getting to know her clients in-depth and establishing a collaborative working relationship with them to mutually work toward a healthier, more fulfilling lifestyle. She has a particular passion for working with minority and LGBTQ clients whose identity formation process may be a bit more complex. Outside of her professional work, Harpreet is a cinephile and enjoys keeping up with independent and mainstream movie releases, traveling, and indulging in her creative pursuits such as making handmade soap and glazing ceramics.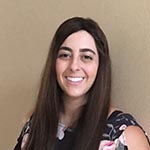 Lital Koropitzer

,

Psychology Intern

Lital Koropitzer is currently pursuing her doctorate in clinical psychology. She has experience in outpatient settings, working with children, adolescents, and adults, as well as in group, individual, couple, and family modalities. She recently joined Shanti as an advanced practicum student. Outside of Shanti, Lital enjoys traveling, hiking, and theater going.